Polish Investment Zone
A new incentive instrument for entrepreneurs in the form of a tax exemption for new investments
which replaces Special Economic Zones.
No territorial restrictions on the project location
Longer CIT exemption period
Awarding the incentive depends on the fulfillment of a number of criteria

WHAT IS THE FORM OF SUPPORT?

Exemption from income tax CIT and PIT

WHERE TO INVEST?


The investment can be carried out in all areas in Nowy Sącz (private and public). This applies not only to areas covered by the borders of Special Economic Zones.


WHAT KIND OF INVESTMENT PROJECTS QUALIFY FOR THE SUPPORT?
setting-up of a new facility
production capacity increase
introduction of new products
fundamental change in the overall production process
WHAT KIND OF ECONOMIC ACTIVITY QUALIFIES FOR THE PUBLIC AID?
All companies from the traditional industry sector, with the exception of enterprises producing, among others: alcohol, tobacco, steel, electricity and gas.

Some companies from the service sector. These include: IT services, research and development services in the field of natural and technical sciences, accounting and book control, accounting services (excluding tax declarations), technical testing and analysis services, call center services, architectural and engineering services .

WHAT IS THE LEVEL OF THE PUBLIC AID FOR THE COMPANIES INVESTING IN NOWY SĄCZ?
The amount of public aid (tax exemption) is calculated on the basis of the entrepreneur's incurred investment outlays or two-year labour costs of newly hired employees.

The table illustrates calculation of public aid that the investor is entitled to:

HOW TO DETERMINE THE SIZE OF AN ENTERPRISE?

WHAT IS THE PERIOD OF TIME FOR WHICH THE SUPPORT DECISION WILL BE GRANTED?
12 years – from the day of receiving the Support Decision
15 years – for companies located in the area previously designated as a special economic zone (SEZ)
WHAT CRITERIA MUST AN INVESTMENT PROJECT MEET TO RECEIVE THE SUPPORT DECISION?
The investment project must meet certain quantitative and qualitative criteria in order to receive public aid.

QUANTITY CRITERIA

Entrepreneurs carrying out new investments in Nowy Sącz must make the minimum investment outlays, which are respectively:

QUALITY CRITERIA

Entrepreneurs carrying out new investments in Nowy Sącz must meet at least 5 criteria in a given sector (industrial or service sector).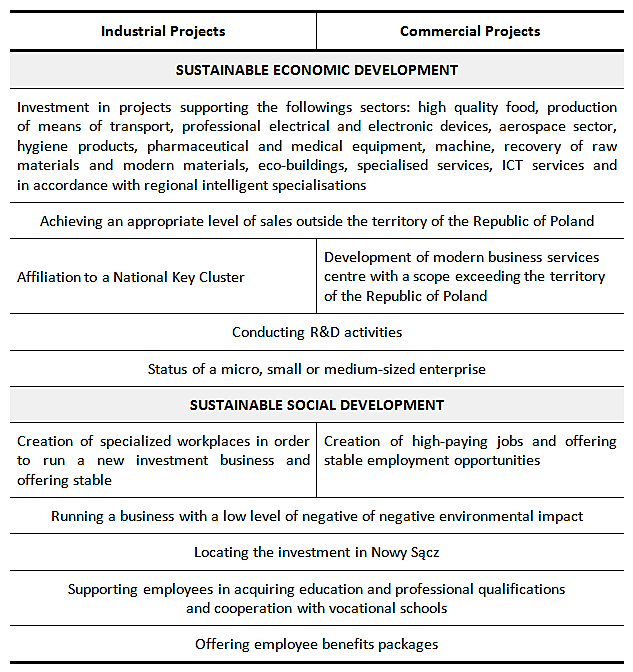 IMPORTANT !!!

Maintaining the conditions under which the entrepreneur received the Support Decision (both quantitative and qualitative) in principle, lasts 5 years for large companies and 3 years for companies from the SME sector.
WHO MAKES DECISIONS ABOUT GRANTING THIS PUBLIC AID?
Support Decision is issued on the basis of entrepreneur's application by the Kraków Technology Park (KTP) on behalf of the Minister of entrepreneurship and technology.
This procedure takes about a month.
LEGAL BASIS:
Act of 10 May 2018 on support for new investments
Regulation of the Council of Ministers of 28 August 2018 on public aid to be granted to certain enterprises for new investments
SEZ ARCHIVE - HERE